Sonoma County, like Jordan itself, is home to many types of artists. And when winery staff find likeminded artisans who share their passion for high-quality food made to complement local wines, they find ways to share these special products with guests.
That's one of the reasons why you'll hear the words "Journeyman Meat Company" quite often at Jordan. Slices of salumi from this Healdsburgbased shop are more than just cured meat—they're pieces of history and savory representations of one man's lifelong quest to craft the best salame in America.
That man, Pete Seghesio, in 2017 opened an artisan operation that starts with heritage pork and estate-raised beef, applies techniques and recipes learned in Italy, and brings it all together in a state-of-the-art facility in northern Sonoma County.
The result: Meats that quite literally melt in your mouth.
For Seghesio, who hails from an old wine family, the endeavor is quite literally a dream come true. As a child growing up in Sonoma County, Seghesio visited Traverso's, Nando's, and other old Italian shops that made their products by hand. Sampling these meats became his favorite part of these trips. He and his father made their own salumi, but the end products were never the same. Later, as the butcher shops started closing, Seghesio longed to keep the craft alive.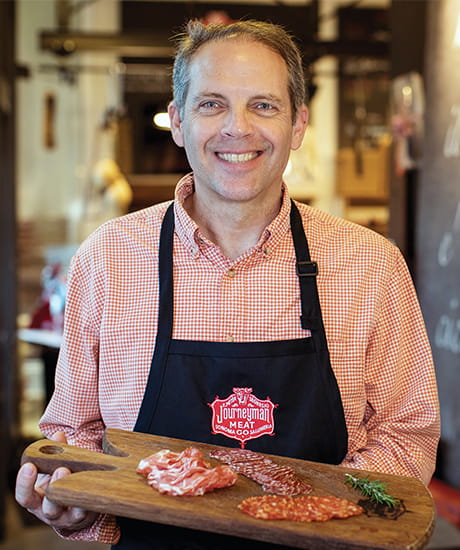 "I wanted to bring back the old-timey feel of these butcher shops," he says. "When they closed, there was nothing like them left."
In 2011, Seghesio seized the chance to go back to the future. He first traveled to Italy, where he studied under world-famous butchers in Panzano and Florence. From these masters, Seghesio spent five Februaries learning the art of Italian-style whole animal butchery. He brought the skills back to Sonoma County and began building out an infrastructure to replicate the Italian approach here at home.
That infrastructure revolved around a brand new salumificio, or salame factory, in Cloverdale, about 20 minutes north of Healdsburg.
Technicians from Parma, Italy, installed authentic Italian curing and processing equipment. Seghesio erected four small-batch fermentation rooms and two aging rooms to balance state-of-the-art modern technology with timetested Italian tradition.
Next, armed with heritage breeds of pork raised without antibiotics or hormones, Seghesio started making salame.
Because he had such great products, Seghesio applied a slow-food approach, fermenting meats slowly to minimize acid and maximize flavors and palate weight. By building such a modern, sophisticated facility, Seghesio was able to ferment different kinds of salumi separately—guaranteeing that soppressata wouldn't taste like chorizo, and chorizo didn't have a smell of finnochiona. He emphasizes this last point as proof that he's serious about producing the very best salumi in Sonoma.
"Most people ferment different kinds of salumi together and humidity transfers molecules back and forth," Seghesio explains. "By separating them, we can control the fermentation and lengthen the process to make it taste great."
"I have a great respect for a man doing what he is passionate about," Executive Chef Todd Knoll says. "He was a very accomplished business owner before Journeyman. He could be lying on a tropical beach somewhere, but he's chosen to pour his heart into the art of salumi."
One of the reasons Chef Knoll likes working with Journeyman products is because they are produced in a natural way with less preservatives and salt, which makes for great wine pairings.
For instance, Journeyman's Parmesan Porcini pairs perfectly with Jordan Cabernet Sauvignon due to earthy notes in both. Chef Knoll also says he loves to serve the finnochiona (a dry Italian salame with fennel and fennel pollen), since there is a lot of wild fennel growing on the Jordan Estate, and the salame "is a true extension of Sonoma foraging we like to celebrate."
All told, Seghesio makes about 10 different kinds of salumi, as well as seven kinds of smoked sausages and six varieties of fresh sausage.
There are a number of ways Jordan guests can sample Journeyman meats. Chef Knoll serves Journeyman beef in one of the dishes on the Estate Tour & Tasting, which culminates at Jordan Vista Point, just above Seghesio's neighboring farm and cattle ranch. A Journeyman-centric charcuterie picnic rewards visitors at the end of Jordan's Vineyard Hike, and his products take center stage during the Charcuterie & Wine Tasting.
The new Jordan Chateau Block Tasting also features Journeyman. As part of this experience, Seghesio will create custom salumi for pairing with Jordan Cabernet Sauvignon that will be served with a vertical tasting of cabernets in the new vineyard across from the chateau. Journeyman products will also be a central feature on the menu for the Jordan picnic events in June and August.
Guests also can sample Journeyman directly from the source, of course.
In 2017, Seghesio opened a tasting room—the Journeyman Meat Co. storefront is located on Center Street in downtown Healdsburg next to Michelin three-star SingleThread. The space, which doubles as a working butcher shop, is open five days a week and serves a variety of tasting platters of Journeyman salumi and sausage, paired with wines from Journeyman and Seghesio.
The experience is sophisticated, intimate and delicious. It's a great way to spend an afternoon.
Most days Seghesio himself works the counter, slicing salumi and chatting up customers. When he's not there, you'll likely be served by his wife, Cathy, or one of their sons. It turns out that salumi, much like wine, is a Seghesio family affair.
Jordan wines complement just about every food, but some Journeyman salumi matches up better than others.
With Jordan Cabernet Sauvignon, try the Parmesan Porcini salame, which comprises bits of parmesan that cut through tannins and help cleanse the palate for every bite. As Seghesio explains it, the mushroom in the salame is a wonderful complement to cabernet's natural earthiness.
"The porcini is mild, which is good," he says. "With a big wine, the last thing you want is something overly spicy with noticeable hot pepper because it will amplify the tannins."
For pairings with Jordan Chardonnay, Seghesio recommends the soppressata, a salame that features Calabrian chilis and sweet peppers, fennel and cayenne. In this case, the heat of the salame bumps up the perceived acidity of the wine.
"The flavors play well together. It's like a showcase."