This striking lettuce will bring color, crunch and health benefits to your table
Until the mid-1980s, America's salad greens were pretty much limited to two options: iceberg and romaine. This lack of choice led to decades of uninspired salads, defined more by their toppings than the leafy bits in the bottom of the bowl. All that has changed, of course, and lettuces now come in dozens of delicious varieties, from frilly tango to nutty mâche to earthy red oak leaf.
Jordan Winery grows many types of greens in its organic estate garden, but the winery's executive chef, Todd Knoll, is particularly smitten with a new addition called Merlot lettuce. Planted in the winery garden for the first time in 2019, the variety was first brought to the United States from Holland in the 1980s as "galactic" lettuce and later renamed for its wine-like hue. Merlot lettuce's glossy leaves are said to be the darkest red of all the lettuces, chock full of healthy antioxidants.
Aside from its gorgeous color, Merlot lettuce adds a rich, savory flavor to seasonal salads. Knoll especially likes to combine it with other greens, both wild and cultivated, for a variety of favors and textures. Jordan's Merlot lettuce—and, in fact, most of the estate's organic vegetables—are grown from seed obtained from the Baker Creek Seed Company. Based in Mansfield, Missouri, the family-run farm also operates The Petaluma Seed Bank, a storefront location just 35 miles south of Jordan Winery.
"Baker Creek has been our source for heirloom non-GMO, open-pollinated seed and starters for more than 15 years now," Knoll says. "Their selection, strong starters and superior germination rates are a cornerstone of the Jordan garden."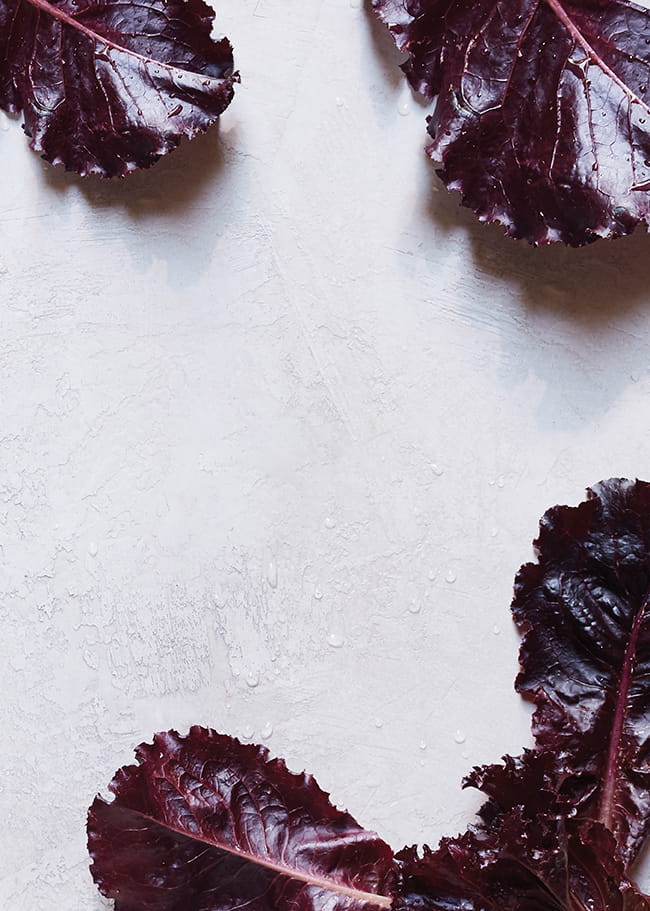 Merlot lettuce's glossy leaves are said to be the darkest red of all the lettuces, chock full of healthy antioxidants.
The seed company's founder, Jere Gettle, became fascinated with seeds at an early age, and planted his first garden when he was just three years old. While other kids his age were trading baseball cards, Gettle poured over seed catalogs and marveled at the wondrous variety of vegetables and flowers that could be grown from those tiny treasures. He was particularly fascinated with the history of old seeds, and as he grew up, he noticed that diversity was disappearing from commercially available seeds.
He published his first Baker Creek Heirloom Seed catalog in 1998, when he was just 17 years old. Today, Gettle's company sends out 750,000 catalogs yearly to gardeners and farmers across the country and offers 1,300 varieties of vegetables, flowers and herbs. Baker Creek's selection of heirloom seeds is now the largest in the nation.
"We grow a lot of our seeds at our farm out in the Ozark hills," Gettle says, "and we also have an awesome network of about 200 growers."
Heirloom seed varieties, Gettle explains, are typically more than 50 years old—passed down from generation to generation by seed-saving farmers. Unlike conventional seed varieties, heirlooms are naturally pollinated by birds, insects, or the wind, and have not been genetically modified or hybridized. And because they haven't been bred to cultivate perfect looks or the ability to survive transport across the country, heirloom vegetables are often more flavorful than their conventional counterparts.
While heirlooms have a reputation for being harder to grow and more susceptible to diseases, Gettle says that is not the case if they are planted in the right place.
"It is a myth that heirlooms don't grow as well," he says. "Hybrids are typically selected to grow over a wide region, but heirlooms are regionally adapted to specific bioregions and microclimates. Many perform extremely well when grown in a region similar to where they were developed."
Merlot lettuce can be grown in USDA Hardiness Zones 3-9, and can tolerate both heat and light frost. Because Sonoma County's growing conditions are near-perfect (Zone 9), the variety thrives for months, growing new leaves after each trimming.